We have tremendous advisors at MobLab and thought you would want to hear from them too. First up: John Duffy! In 2014 John moved from the Steel City to the City of Angels where he is a professor of economics at UC Irvine. To me, his most exciting research is in the area of experimental macroeconomics. If you haven't heard of experiments on macroeconomic topics, check them out. He currently serves on the editorial boards of European Economic Review, Experimental Economics, Games and Economic Behavior, Journal of Economic Dynamics and Control, Journal of the Economic Science Association and has received numerous grants and awards. Whew! He is a busy guy. Just goes to show the start-up costs to using our games is very small.
Q:  When did you start using interactive games and activities in your classrooms?
A:  I have been using games to teach game theory since 2001. I found that game theory was much more interesting to students if they started out by playing a game and were then presented with a discussion of the equilibrium prediction(s). I began using a computer laboratory to teach game theory, but the constraints on the size of the laboratory -just 40 workstations- limited the number of students who could enroll in the course.
Q:  At what point did you decide to give MobLab a try?
A:  I started using MobLab two years ago, in 2014, when I moved to UC Irvine, where undergraduate courses can be very large. MobLab now has most of the games that I would ordinarily teach in my courses and I am helping MobLab to add some others. MobLab also has the unanticipated advantage of occupying student's mobile devices with course-relevant material, which minimizes other distractions.
Q:  How did it compare to those other games and activities you used in the past?
A:  Well, as mentioned I was previously tethered to a computer laboratory to conduct classroom experiments but now I can use MobLab in very large classes held in standard lecture halls. Every student these days has a mobile device that can be used to play MobLab games. Also, I did not previously have access to such a wide variety of games as MobLab provides.
Q:  What classes do you currently teach where you use MobLab?
A:  Game Theory and Experimental Economics
Q:  What has the student reaction been to MobLab?
A:  Students like to learn game theory by playing games and MobLab has definitely enhanced the classroom experience for them. I think that some students would prefer it if we played games using MobLab for the entire class rather than have to listen to me lecture.
Q:  What is your favorite game to play with the students and why?
A:  I still love to play the Keynesian Beauty Contest game, usually in the very first class, because this is the first game I studied as a researcher and it is still not so widely known, at least among undergraduates. In this game, students simultaneously guess an integer between 0 and 100 inclusive. The winner is the person(s) whose guess is closest to 2/3 times the mean of all numbers submitted.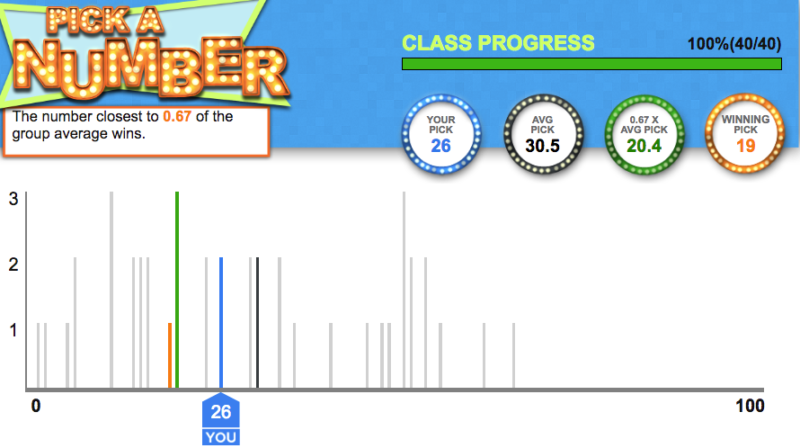 Before the students play the beauty contest game using MobLab, I write my own guess down on a piece of paper and I seal it in an envelope which I bring to class. I show my students the sealed envelope and I tell them I will open it to reveal my guess later. Then I have the students make their choices using MobLab. After the winning number is revealed, I open the envelope and reveal my own choice. While I don't always have the winning guess I am usually pretty close to the winning number based on years of experience with playing the game. This builds up a lot of credibility for the new professor on the first day of class!
Q:  What advice would you give a new instructor who wants to use games in their class?
A:  The start-up costs to using games in your class, especially using software like MobLab, are smaller than you may think and the rewards in terms of student understanding (not to mention teaching ratings) are greater than you may think.
Want More? Find previous Conversations With Educators articles here and stay tuned for more.