To the unengaged student, economics amounts to numbers, Wall Street, markets, and ultimately a feeling of "something unrelated to me," which could be further from the truth. Our KR Matching Game allows you to start conversations with students about how economics deals with everyday decision-making and may even be the answer to some of the anxiety they are currently feeling.
---
Our KR Matching game implements the matching market studied by John Kagel and Al Roth, where groups are split evenly between medical residents and hospitals that interact in a number of matching rounds. When running the first round without intervention, matches occur inefficiently early. Then instructors can then introduce one of two clearinghouse mechanisms: a stable matching algorithm (based on Gale and Shapley's deferred-acceptance algorithm) that has successfully reduced market unraveling or a priority matching algorithm which is not stable and has often failed to deter early matching. Everyone prefers the stable matching clearinghouse. Why?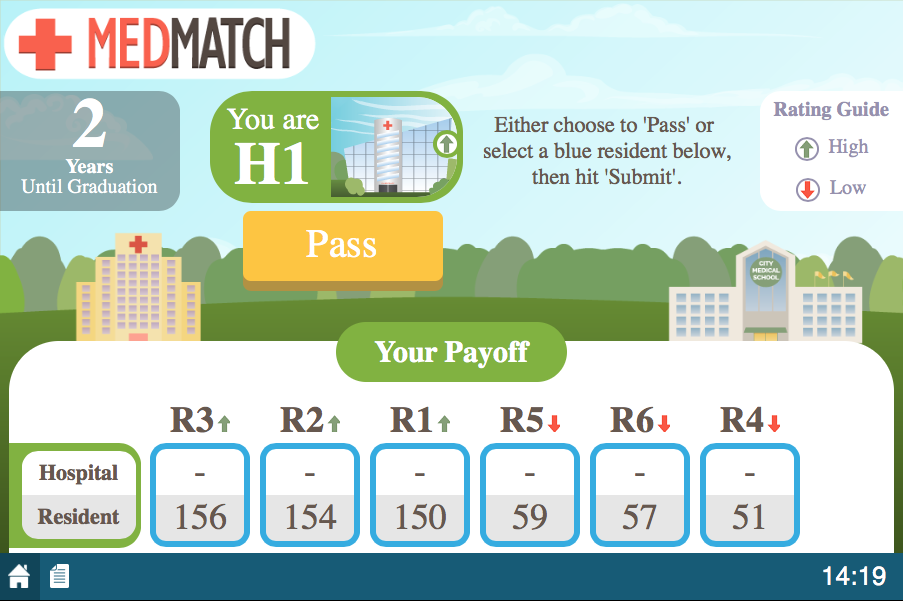 Students are very familiar with the anxiety that early matching in a competitive labor market can cause. They've applied for college and even class scheduling is a good example of how people scramble for classes by a deadline that might not necessarily be the best fit. Personally, as a DI volleyball player I was approached freshman year for college decisions, which might be a reason why we see student athletes transferring schools or quitting sports all together.
The National Resident Matching Program (NRMP) is the best-known organization that has successfully changed the rules of hiring medical students for residency to preempt market failure. Talk to your students to determine some other markets that could benefit from a matching system i.e., refugee camps, clerkship with an appellate judge, organ donor list, housing projects, etc., and what components would be needed to make a strong algorithm.